Long Range Side Matches
Wednesday
Long Range competition is different than the action match, more emphasis is placed on precision shooting at longer ranges, time taken is a secondary scoring factor. The best score is determined by the number of hits with time used to break ties.
Use of range finders, GPS or any electronic devices are strictly prohibited.
Allow sufficient time to participate as lines and long waits can occur at the long range events.
Black powder shooters will be allowed one Fouler Shot, but not on the target.
No Sighter Shots.
You will only be allowed to shoot each event once.
There will be NO Hay Bales, only the adobe walls and tables will mark the firing line.
Events listed are tentative. Actual events may be changed due to range, weather and target availability. All ranges are approximate and may be adjusted or changed as range situations may dictate.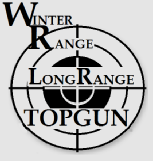 Bucky O'Neil Military Rifle
15 rds at three targets 100,200,300 yds
Click here for Rifle requirements & Course of Fire