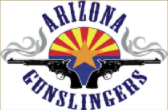 Showdown at End of Trail
Cowboy Fast Draw SASS Side Match
Hosted by the Association of Arizona Gunslingers Inc.
Registered End of Trail Competitors only
Feb 27 – March 4th
Stop by the Cowboy Fast Draw Booth (Up-range of Stages 1-4) and try your hand at Cowboy Fast Draw. You can use your gun (chambered in .45) and holster or we can provide them. We will supply the wax ammunition. Just sign-in and we will work with you to get ready to go. (Your first round will be free). You will get 5 shots to warm-up and then the next 5 shots will count. Your qualification time will be determined by your best 3 shots out of a 5 shot round. You can buy additional tries to better your qualification time for $5.00 (all these funds go to Happy Trails Foundation). There is no limit to how many times you can attempt to qualify, but only your best one counts. You must have 3 hits per 5 shot round to receive a score. Score consists of the total of your 3 fastest shots. The fastest time (Men & Ladies) will receive a plaque for bragging rights.
Stop by on Saturday and watch the CSFA "Showdown at End of Trail"
Any questions please contact:
Shady Mike
602-770-1430
No Name
602-632-2021